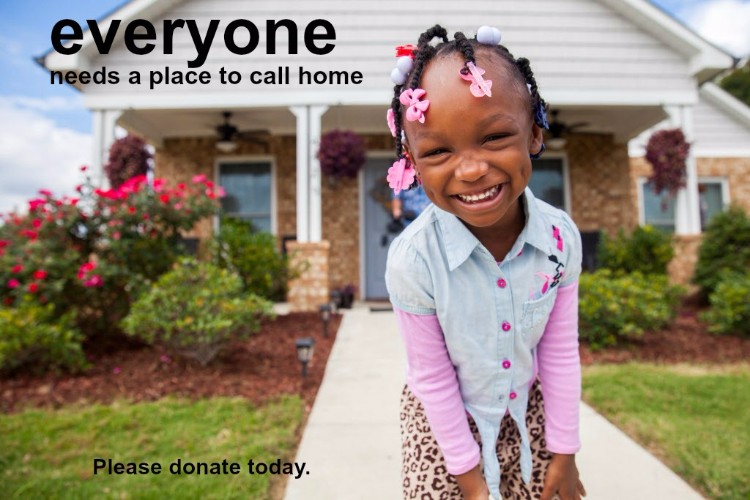 Your Financial Support Helps Build a Stronger Community
Working alongside families and volunteers brings home the challenges of affordable housing...we live in a fantastic community that is fast growing and increasingly prosperous. But there are many in our community who struggle with providing decent, affordable housing for their family. That's where we need your help and financial donations
We put donations to work where they're needed most.
100% of donations to Loveland Habitat are used to build decent affordable housing, right here in Loveland.  Imagine, for $5 or more a month, you're helping supply the construction materials needed to build homes. 
The demand for affordable housing continues to grow, and construction costs have risen steadily as well.  It currently costs us approximately $175,000 for a single family home.  The bulk of costs are big ticket items:
Land and development costs- $50,000
Excavation, and concrete foundation/sidewalk- $75,000
Lumber for framing, roofing- $20,000
Windows and doors- $5,000
Roof shingles and installation- $4,500
Landscaping- 3,000
Electrical- $2,100
It's important to remember that this is not a hand-out...each Habitat family is working alongside with us, to buy their home.  Once the house is complete, they become owners, paying a mortgage that is affordable, so they can build equity and care for their family in a safe and stable neighborhood.
Your donation or charitable gift is also tax deductible to the full extant of state and federal law.
Please donate today.
Here's how you can donate to Loveland Habitat for Humanity:
Donate online- it's fast and easy, just click the bright blue Donate button (or Click Here) to make a donation of any size you wish. 
Onetime cash gift- donate on our secure donation website with a credit card, checking or saving account. Click here to donate.
Send a check- make a gift to Loveland Habitat for Humanity and mail to: Loveland Habitat for Humanity, PO Box 56, Loveland, CO 80539
Monthly giving- send a smaller monthly gift year round. For just $5 or more a month, your donation helps Habitat build year round. Click here to donate.
Thrivent Choice- the Thrivent Choice® program gives eligible members of Thrivent Financial the power to recommend where some of the organization's charitable outreach funds are distributed annually, using a vehicle called Choice Dollars®. Use your Choice Dollars®to help build decent, affordable housing in Loveland.
Visit Thrivent.com/thriventchoice or call 1-800-847-4836 and say "Thrivent Choice" when prompted. Or contact your Thrivent Financial representative.
Gifts of Securities- Gifts of securities (stocks/bonds/mutual funds/exchange traded funds/etc.) are a valuable tool in our efforts to build more decent, affordable homes right here in Loveland.  If you are interested in donating a gift of securities, or simply have questions, please contact:
Vince Deely, Resource Development Director, Loveland Habitat for Humanity, vince@lovelandhabitat.org or 970-669-9769.