Thanks for your interest in volunteering!
Volunteers play an essential role in helping Loveland Habitat for Humanity fulfill our mission to build homes in partnership with qualified low-income families. We welcome volunteers on our construction site, at our ReStore and Administrative office. Volunteers also serve on our Board of Directors and key Committees.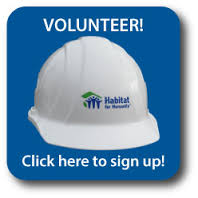 Construction Volunteers
By clicking the link above, you can view our volunteer calendar and register for your slot!  Please note that once you sign up for a volunteer slot, you may be contacted by a volunteer coordinator to request more information before providing you with build day details.We build year-round and construction volunteers are essential to our success. This year we plan to build 5-6 homes and will need a thousand or more volunteers to complete our goal. 
Here's a summary of our Construction Volunteer program: 
No previous construction skills are required or expected.
All tools, gloves and safety gear  provided and supervised by skilled construction team. 
Typical tasks include framing, drywall, soffit work, interior and exterior painting, and landscape related work. We have homes at different stages of completion, and ask for your flexibility with assignments.
Year-round building, weather permitting, excluding holidays.
Build days each week: Tuesday, Thursday, Friday and Saturday, from 8:30am-3:30pm
Dress accordingly- no shorts or open-toed shoes…expect to get dirty!
All construction volunteers must be present for Sign-in and Safety Presentation at 8:30am.  No exceptions.
Construction site volunteers must be adults, 18+.  
If you want to help out, come and volunteer!  Join together with friends, members of your church or company...if you can swing a hammer, you can build with us! If you have any questions, contact Chris at 970-669-9769 or email at chris@lovelandhabitat.org
Important Documents
Administrative & Support Volunteers
In addition to construction, we have many other important areas where you can volunteer. See the volunteer opportunities below and let us know what interests you.
Board Membership- Our Board of Directors provides critical strategic direction and fundraising support to help our staff meet the demand for decent, affordable housing in Loveland. 
Family Selection & Support- Committee members work directly with our partner families and help manage the application process for our clients, plan our education series, and help us reach out to the community with information on our homeownership program. 
Fundraising Committee- This committee works together with staff on plans to help meet the financial needs of our organization. Members help identify and invite potential donors to invest their time, resources, gifts of materials or services. They may also assist with fundraising events as needed. 
Administrative and Office Support 

Event support- we always need volunteers to help our events run smoothly, and that each guest is welcomed and treated to a great "Habitat experience." Roles include set-up, tear down, hospitality, registration, photography, and errands.
Office Assistance- Reception, phones, filing, errands, and other tasks at our Administrative Office.
Special Projects- Help staff complete mailings and other projects that come up periodically. This position is perfect for a person or group who would like to participate on an "as needed" basis.
To learn more about volunteering with Loveland Habitat, contact Chris at 970-669-9769 or CLICK HERE.
ReStore Volunteers
The Loveland Habitat  ReStore is one of the most successful ReStores in the U.S.  That's because of our volunteers...they make it a special place to donate and to shop. Best of all, the income raised by the ReStore helps build homes in Loveland.  If you're interested  in volunteering at the ReStore, contact Amy at 970-669-7343 or email amy@lovelandhabitat.org  
Volunteers help receive and sort donations; price and display merchandise; test electronics and appliances and assist with clerical duties.
Friendship and laughter are essential traits of our retail environment.
To volunteer at the ReStore, please contact Amy at 970-669-7343 or email, CLICK HERE
For Court Ordered volunteers, please contact Alyssa at 970-669-7343 or CLICK HERE