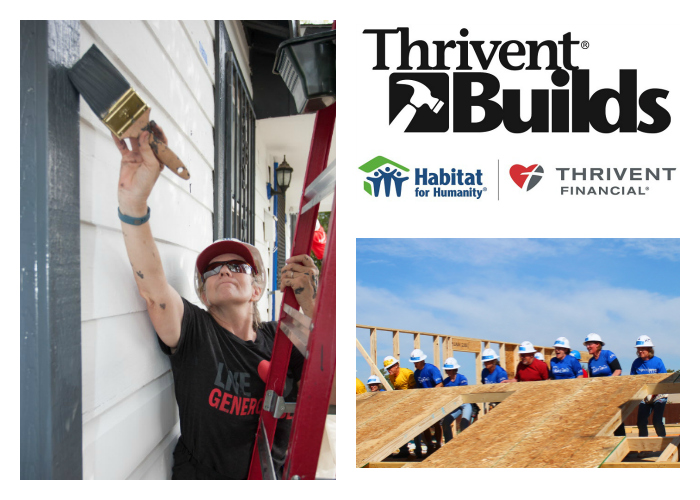 Thrivent Financial helps families find strength & stability
Take a look inside the Thrivent Builds program and learn how helping hands can lead to self-sufficiency and brighter futures for families across the world.
There are countless ways you can help Loveland Habitat...no experience required!
Thrivent Builds with Habitat for Humanity helps families achieve greater economic independence through the building of decent, simple, affordable homes. Building these homes is more than just boards and blocks. It's sweat and smiles, born of hard work and expressions of faith. There are many ways you can help … and they're not all swinging hammers. Find out more by talking with Chris Zwakenberg, our Faith Relations & Volunteer Coordinator. Email Chris to learn about 2017 Thrivent Build opportunities.  To learn more about Thrivent Financal, click here.
2017 Thrivent Build Dates
Following are our 2017 Thrivent Build dates. Please help fill our open spots! We are looking for groups of up to 10 people. To learn more or sign up, contact Chris at chris@lovelandhabitat.org or 970-669-9769.
1.    6/3 Saturday, Rez Church
2.    6/16 Friday (open)
3.    6/30 Friday (open)
4.    7/15 Saturday, ELCA (King of Glory, Zion Lutheran, Trinity Lutheran)
5.    7/28 Friday (open)
6.    7/29 Saturday, Church of the Nazarene
7.    8/19 Saturday, First United Methodist Church
8.    9/8 Friday (open)
9.    9/30 Saturday, ELCA (King of Glory, Zion Lutheran, Trinity Lutheran)
10.  10/10 Tuesday, Loveland Habitat Regulars
11.  10/27 Friday (open)
12.  11/11 Saturday, Hope Baptist Church
13.  12/1 Friday (open)